Everyday innocent children who are victims of abuse and neglect become dependents of the court.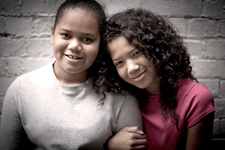 This means that a judge will now decide their future. Will they be returned home, adopted, placed with relatives, or remain in foster care? What is truly in their best interest?
The heart of CASA of Tulare County is a group of over 150 volunteer Court Appointed Special Advocates who give a voice to the abused, neglected and abandoned children of Tulare County. 
After a comprehensive training program they become sworn officers of the court and are assigned to a case. They get to know their child through weekly visits, and researching every aspect of the child's world. They then present this essential information to the court, helping to ensure the decisions made truly are in the best interest of the child.
Each CASA volunteer is trained and supported by the dedicated staff of CASA of Tulare County. We are very fortunate to have a wonderful Board of Directors who come from diverse backgrounds. They bring to CASA a wealth of experience and tremendous dedication.
CASA of Tulare County is a local 501(c)(3) non-profit organization. Our major funders are First 5 of Tulare County, United Way Tulare County, Judicial Council of California, Children's Trust Fund of Tulare County and Promoting Safe and Stable Families. Over 50% of our financial support comes from generous Tulare County individuals, organizations and businesses.
We could not continue to do this important work without our supporters!